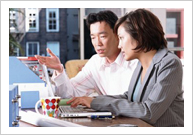 Professional Services
Features
---
Professional Services
Our range of professional services include: -
---
Pre Lease Services
I-INNOVATIONS DESIGN is able to provide a Pre-Lease service to Clients looking at buildings. This service is supplied to Clients to assist them in an accurate evaluation of potential buildings and space requirements. As professional interior designers we can provide an extra assessment and analysis.
This service includes:-
1. Building analysis
Power supply
Air Conditional
Raised floor/trunking provisions
Fire prevention system, sprinklers exits
Water, Toilets
Ceiling heights
Suspended ceiling, lighting provisions
Telephone lines in / out
Satellite link
Ducting provisions for IT cabling etc.
Signage writes options etc.
2. Building floor space survey (actual net / gross sq. ft.)
---
Consultancy Services Methodology
I-INNOVATIONS DESIGN utilizes a seven-step management tool to Design Consultancy. Each step of this process is carefully monitored as part and parcel of the project schedule. A Client sign off is required after each step on the process before the next stage can commence.
The seven components are as follows:-
Programming
Concept / Space Planning
Design Development
Drawings and Specifications
Contract Documentation
Site Inspection
Finalization
---
Interior Design Services
I-INNOVATIONS DESIGN provides their Clients with Interior Design of the highest quality. We provide their Clients with an image, which is tailor, made for their requirements and in tune with their Corporate Identity. Care is taken to reflect other influences, which may be appropriate such as location and the nature of business and image portrayed to Clients.
We will:-
Develop the design brief and space plan into a design layout.
Produce Images and design boards portraying the interior design concept of the project.
Select and provide options for supply items to be included in the project such as carpet tender and system furniture.
Where appropriate, coordinate with suppliers to produce mock-ups of intended systems as part of the bid or tender process.
Based on approved plans and design boards, develop a full set of drawings and specifications for tender to suppliers and contractors by project manager.
Co-ordinate with the project management team, take into account electrical, lighting, air conditioning requirements and other items. Follow through with the project manager to the construction phase and the completion of the project.
---
Lighting Design
As part of every project I-INNOVATIONS DESIGN carry out extensive research into the lighting conditions at the intended new premises and the Client lighting requirements of the working conditions, overall, the atmosphere and the reception / customer areas. The type of lighting and lux levels effects the overall working conditions, perception and colour of the materials and finishes selected.
The design or appearance of the light fittings is also very important particularly in the executive and customer areas. In specialist conditions such as dealing room facilities projects where glare is an issue and the use of indirect lighting is preferable a separate specialist lighting consultant is employed to calculate lighting levels and requirements. We recognize the fact that the correct use of lighting is of vital importance to a successful project.
---
Space Planning
I-INNOVATIONS DESIGN provides their clients with Interior Design of the highest quality. We provide clients with an image, which is tailor made for their requirements and in tune with their corporate identity. Care is taken to reflect other influences, which may be appropriate such as location and the nature of business image portrayed.
We will:-
Take the client brief details
Analyze the brief and submit a list of inquiries.
Take into account space requirements, management and departmental structures, adjacencies, enclosed spaces, open plan zones, meeting rooms, filling facilities etc. to produce a final working space plan.
---
Project Management
I-INNOVATIONS DESIGN has a highly experienced team of project managers on board to monitor every stage of the project and document every step up to and including site supervision, meetings and reports. The Client is fully aware of the schedule and progress at every stage. A detailed project schedule is compiled at the very beginning of a project detailing every step and all trades and suppliers with a deadline date. All project variations are fully documented and require client approval prior to implementation so as to avoid any misunderstandings and limit additional costs. We will provide manage through to completion of project.
The processes are as follow: -
Create a complete project schedule and program of works
Co-ordinate with selected tender supplier and contractors, building nominated M&E contractors etc.
Help the client in selection form tender returns through analysis
Co-ordinate works on site with appointed contractor, suppliers and building management
Attend regular site meetings for progress reports and management co-ordination of project
Record and document all aspects concerning the project schedule
Record any additional items which will require Client approval before implementation
Practical completion inspection and sign off
Inspect site and issue defects list to contractor and suppliers
Ensure as far as possible all defects are rectified prior to the end of the defects period
---
Information Technology
With every office now requiring computerization and the increasing importance that this plays in the functioning of the office place. I-INNOVATIONS DESIGN are also able to supply and co-ordinate all aspects form computer wiring and direct lines for Internet access for file servers / hubs and computer rooms for Client's new offices. Our office is fully computerized using all the latest CAD and administration software. E. Mail is utilized for ease of communication with the Client and other parties. A full list of programs and software utilized is available for bid pre-qualification purposes if required.
---
Turnkey Solutions
INNOVATIONS DESIGN is able to provide a Design Build service for their Clients. We have over the years been able to provide a large number of Clients with a high quality of project is short period of time utilizing their contacts within the construction business. INNOVATIONS DESIGN is the Clients only point of contact for the Client simplifying the whole process eliminating lengthy tender and negotiation process with contractors and suppliers. We recently provided this service for our client such as Cycle & Carriage HQ and Peugeot and showroom. We only work s with the same contractor to provide this service and has over the years been able to build up a relationship and understanding. We firmly believe in the Design and Construction method as being the best way to ensure quality and provide the shortest schedule for their Clients.
The advantages of Design and Build are: -
Single point of responsibility and contact to INNOVATIONS DESIGN
Better quality control
Shorter time frame required completing a project
More flexibility
---
Signage and Graphics
INNOVATIONS DESIGN can provide a full signage and graphics service to Clients. Company graphics and ergonomic signage and company display and gallery areas are incorporated into the design according to the Clients requirements. We can work an identity or image for Clients or adjust the identity to reflect the local market.
---
Furniture Design
INNOVATIONS DESIGN is experienced in furniture design of both loose and built in furniture items. Typically for commercial projects these items would include the design of the main boardroom table and small meeting room tables, reception area casual tables, reception desk, build in filling cabinets etc. The specialist joinery and cabinetry is tailored to suit each project and site individually.
Copyright © 2012 I2U Solutions Sdn Bhd
---